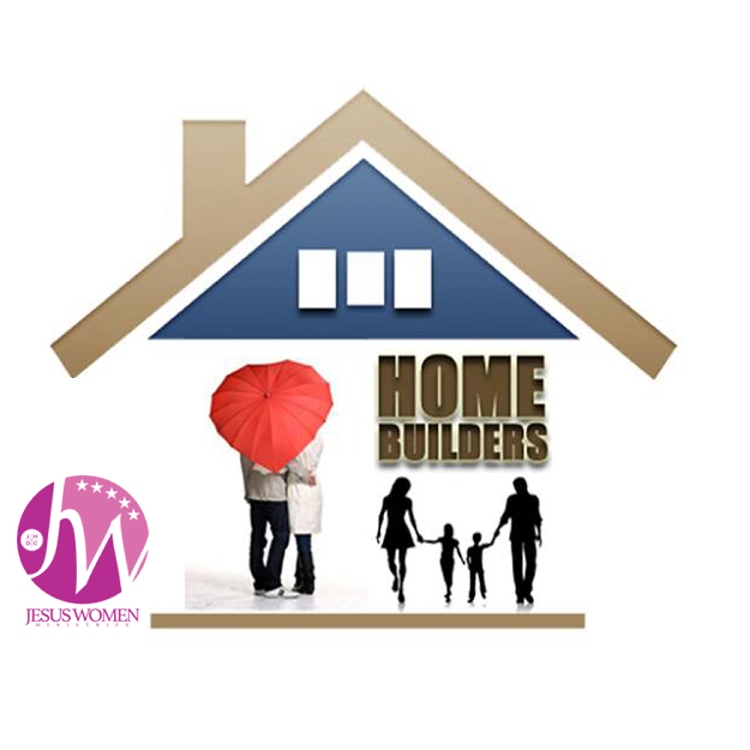 Toun Adewole /
Head of Department
Mrs. Folakemi Soyannwo /
Asst Head of Department
Elder Afolabi Adefemi/
Counselor
Funke Eru
Head of Department - Home Builder's Bloom
Dcns. Funke Fasalojo
Head of Department - Home Builder's Bloom
Shade Butler
Asst. Head of Department - Home Builder's Bud
Mrs. Abby Oyem
Head of Department - Home Builder's Bud
Homes for Christ! The Home Builders Ministry is an arm of the Jesus Women Ministries of Jesus House, DC. The ministry presents married women with the opportunity to learn wise principles with which to build their homes.

Our Vision
To raise virtuous married women who will build their homes for Christ through God's Word, fervent prayer and fellowship with other Christian women.

Our Purpose
God is the founder of the Holy institution of marriage, and there is a general attack on marriages, especially Christian marriages. Most couples do not know where to seek counsel or appropriate solutions to challenges encounter in marriages. The Home Builders Ministry helps couples especially married women to stand on, and obey the uncompromising word of God. Also, to pray and seek Godly counsel to resolve conflicts in marriages.

Our Focus
Married women are empowered to build up a Godly, loving Christian home and also to experience joy and peace in the race of Marriage.
Our prayers are aimed at
building a strong foundation for our homes
Our prayers are aimed at building a strong foundation for our homes and hence we pray for the following;
Ourselves, as wives
Our Husbands
Our Children
Our in-laws and relatives
The marriage of leaders in our local church
Married couples in the body of Christ
Challenging situations affecting marriages in our Nation.
Open Forums: We have Open Forums where we discuss real-life issues which affect marriages on a daily or occasional basis. We share biblical principles as relating to these topics using the word of God to encourage one another. We also gain practical knowledge from women that have being married for years and have gone through such daunting situations. We benefit from their testimonies and how standing on the word of God helped them in overcoming these challenging situations.  All discussions are treated as confidential.

Symposium and Empowerment Programs: We invite guest ministers for various discussions; balancing Home and Career, Parenting etc.

Counseling: We afford our married women the opportunity to benefit from a In-House Counseling Team that married women can seek counsel. All discussions are kept confidential. 

Home Economics: We organize a learning forum of how to prepare good and nutritious meals for the family.

Special Events: We organize events; refreshing time, education sessions, fun and relaxation.
Our Confessions as Married Women
I declare that I am a virtuous woman of God (Proverb 31:10, 17, 25); A woman of moral excellence and strength.
I am a woman of great understanding (I Samuel 25:3); I live by the Word of God.
I am a woman of integrity and great self-worth; My appearance exudes confidence
I manage my household with godly wisdom because I have the mind of Christ (Philippians 2:5).
I provide everything that my husband needs and desires, therefore he is faithful to me and will not go elsewhere (Proverb 5:18-19).
I am subject to my husband in all things, even as the church is subject to Christ (Ephesians 5:22-24).
I love, honor and respect my husband in words and actions. I speak well of him to others(Proverb 31:26)
I am an asset to my husband, a treasure beyond measure; I am neither a burden nor a liability.
I will do my husband good and not evil all the days of his live (Proverb 31:12).
I declare that my husband is an anointed man of God. He stands in his rightful position as the head and priest over our home (I Corinthian 11:3).
My husband has found a good thing in marrying me and he is highly favored with God and man (Proverb 18:22).
My husband is a good provider for our household. His coast will be enlarged and all that lays his hand upon will prosper. We shall know no lack in our home (I Corinthian 4:10, Psalm 34:10).
We will resolve every issue and conflict with God's help. Bitterness and anger will not take root in our hearts. Our marriage will be built on unity and harmony.
My children have the Spirit of Excellence and Preference operating in their lives (Daniel 6:3). The spirit of rebellion will not operate in them.
My children will know God. They will be a source of constant joy to our family(Proverb 23:24)
The Spirit of the Lord rests on my in-laws; I love them and will not enter into strife with them(Proverb 10:12)
The Spirit of the Lord is upon my entire family, the Spirit of wisdom and understanding, the Spirit of counsel and might, the Spirit of knowledge and fears of the Lord (Isaiah 11:2).
I am confident that Christ which has begun a good work in my marriage will perfect it until the day of Christ (Philippians 1:6)
We meet every 1st and 3rd Mondays of the month
Time: 7pm – 8.30pm
Venue: Jesus House DC- 919/921/926 Philadelphia Avenue, Silver Spring, MD 20910